So you know that funny look on Buffy's face in
As You Were
when she glanced up to see Riley standing in front of her? I'm positive that same expression was on my own face the other day when I got a notice that one of my ficlets had been nominated here: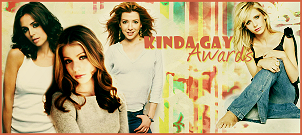 I was totally mystified as to why someone would nominate me because I couldn't recall having ever written any femmeslash. The title of the piece rang no bells so I had to go look in my own memories to find it:
Promise
, Faith/Buffy. I completely forgot that I wrote this long drabble and cannot remember exactly what the prompt was for it ...it may have been a chat room discussion on how hard it is to write a kiss but I'm not sure.
Anyway, THANK YOU to whoever nominated my drabble! The nomination alone made me smile all day.
BTW,
Nominations are still open
for
kinda_gay_award
so if there's some f/f out there that you really liked, why don't you take a few moments to nominate the author who wrote it and make someone's day?
Also, I have this pretty from Round 23 for
Chatting In The Graveyard At 3AM
(Faith, Holden Webster) at the SunnyD Awards: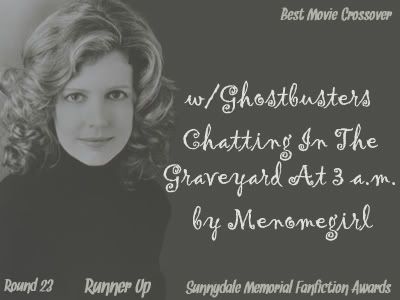 Speaking of SunnyD,
nominations for Round 27 will soon be open!